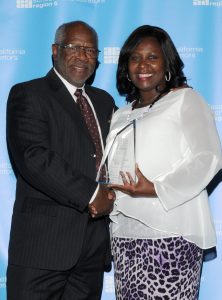 Each year members Region 6 nominates exemplary individuals for numerous awards ACSA sponsors. These awards recognize individuals and bring distinction to the individual's school/district. For more information, visit state ACSA's About Us page and click on the Awards Program tab.
The 2021 ACSA Award Program is open for nominations. Nomination forms are available on the ACSA Awards Platform. Watch a short demo of the new online platform to find out how you can nominate your colleagues, or read frequently asked questions.
All Charter winners will be recognized at the Leadership Summit Awards Dinner (Date TBD). They do not have to be ACSA members; however, Region winners must be ACSA members.
Complete Nomination Packets must be submitted by January 14, 2021 to be considered for Region 6 and State recognition.
Awards include:
Ferd Kiesel Distinguished Service Award
Marcus Foster Memorial Award
Robert E. Kelly Retiree Award
Administrators of the Year – nominees are honored in job-alike categories
Valuing Diversity Award – member whose work in promoting diversity epitomizes ACSA's mission
Partners in Educational Excellence – programs and businesses that collaborate to support education
One letter of recommendation must be included with nomination
Timeline
Nominations for 2021 program open
August 1, 2020
Training at the region level
August 14, 2020
Work with Charter President on your Charter's nomination process. Each charter determines its charter winners submitted to Region 6. Charter winners become Region nominees. Charter Presidents must be notified of all nominations.

Contact Pam Hughes, Vice President/Programs and Awards Committee Chair with any questions at: phughes@fusdk12.net

Nominator must send a photo of the nominee (in JPEG format and nominee's name as file name) to Pam Hughes.

Charter Presidents should submit a list of their charter winners and nominees to Pam Hughes by January 14, 2021. Note: Online platform closes on this date.

August 1, 2020 – January 14, 2021
Region 6 Nomination Committee meets to review nominations of Charter winners and select Region winners
January 28, 2021
ACSA State deadline for Region nominations. Region winners become finalists for State Awards.
February 4, 2021
ACSA Region 6 Awards Dinner
All Region 6 nominees and winners will be honored.
TBD
---
ADMINISTRATORS OF THE YEAR 2021 Region 6 Nominees
Superintendent
Karen Monroe, Alameda COE
John Nickerson, Acalanes UHSD
Matt Wayne, Hayward USD (Region Winner)
Secondary Principal
Lorne Barbosa, Mt. Diablo USD
Tiffany Benson, Acalanes UHSD
Maureen Byrne, Dublin USD
Carrie Wells, Liberty UHSD
Kevin Ahern, San Ramon Valley USD (Region Winner)
Middle Grades Principal
Betsy Balmat, Lafayette ESD
Ramon Camacho, New Haven USD
Kirsten Jobb, Brentwood UESD
Walt Lewis, Fremont USD
Kimberly Vaiana, Mt. Diablo USD
April Wong, Castro Valley USD
Lorianne Ventura, Dublin USD (Region Winner)
Elementary Principal
Raquel Bocage, New Haven USD
Gatee Esmat, Livermore Valley JUSD
Carole Diamond, Fremont USD
Kathy Frazer, Martinez USD
Patrick Hansen-Schmitt, Castro Valley USD
Wendy Castaneda Leal, Newark USD
Moraima Machado, San Lorenzo USD
Alison Evert Monga, West Contra Costa USD
Christine Offerman, San Ramon Valley USD
Mignon Perkins, Mt. Diablo USD
Jeffrey Varner, Pittsburg USD (Region Winner)
Central Office Administrator
Marji Calbeck, Mt. Diablo USD
Sandra Escobedo, Hayward USD
Philomena Rambo, Livermore Valley JUSD
Sharon Trieu Quince, Castro Valley USD
Hui Stevens, New Haven USD
Grozelia Ward, San Leandro USD
Pam VandeKamp, Pleasanton USD (Region Winner)
Secondary Co-Administrator
Ronaldo Fisher, Fremont USD
Lenora Medina, Brentwood UESD
Rocio Reyes, West Contra Costa USD
Lauren Falkner, San Ramon Valley USD (Region Winner)
Elementary Co-Administrator
Stella Castillo, New Haven USD
Jeanette Garza, Livermore Valley JUSD
Mary-Ann Lafosse, West Contra Costa USD
Lisa Padway, Pleasanton USD
Sara Roat, Antioch USD (Region Winner)
Classified Leader
Tami Castelluccio, San Ramon Valley USD
Thomas Ekman, Fremont USD
Ruth Jones, Alameda COE
Alexandra Murillo, New Haven USD
Kristin Nisen, Brentwood UESD
Mary Sayers, Newark USD
Karin Sloper, Martinez USD
Gary Krebbs, Castro Valley USD (Region Winner)
Confidential Employee
Tammy Danielsen, Pleasanton USD
Laura Juranek, Mt. Diablo USD
Shobha Reddy, New Haven USD
Terri Saenz, Livermore Valley JUSD (Region Winner)
Personnel Human Resources Administrator
Alexander Harp, San Lorenzo USD
Derek McNamara, New Haven USD
Mike Williams, Pleasanton USD
Keith Rogenski, San Ramon Valley USD (Region Winner)
Adult Education Administrator
Grace Kim, New Haven USD
Jonathan Roselin, Mt. Diablo USD (Region Winner)
 Career Technical Administrator
Rania El Sioufi, New Haven USD
Dan Hanel, Contra Costa COE (Region Winner)
Special Education Administrator
Jennifer Chiarelli, Dublin USD
Randy Linscheid, Contra Costa COE
Kelly Quinn, Antioch USD
Yoko Ostreicher, Castro Valley USD (Region Winner)
Business Services Administrator
Diane Deshler, Lafayette ESD
Teresa Fiscus, Livermore Valley JUSD
Shariq Khan, Alameda USD (Region Winner)
Student Services Administrator
Amani Dunham, San Lorenzo USD
Linda Pete, Mt. Diablo USD
Chien Wu-Fernandez, Hayward USD
Ed Diolazo, Pleasanton USD (Region Winner)
Curriculum & Instruction Administrator
Dawn Edwards, Mt. Diablo USD
Erik Faulker, Liberty UHSD
Sheri Sweeney, Dublin USD
Debra Petish, San Ramon Valley USD
Terri Elkin, Alameda USD (Region Winner)
Continuation/Ed Options Administrator
Carolyn Hobbs, Alameda COE
Abigail Kotzin, San Lorenzo USD
Erik Taylor, Livermore Valley JUSD (Region Winner)
Retired Administrator
Lynda Hayes, Contra Costa COE
Technology Administrator
Max Eissler, New Haven USD
Tracey Logan, West Contra Costa USD (Region Winner)
Valuing Diversity Award
Christine Boynton, Alameda COE
Doris De La Torre, Castro Valley USD
Nancy George, New Haven USD
Jorge Melgoza, Mt. Diablo USD (Region Winner)
Partners in Educational Excellence Award
Bethel Island Children's Support Group, Oakley ESD
COCO Kids, Contra Costa COE
Pleasanton Partners in Education, Pleasanton USD
Union City Family Center, New Haven USD (Region Winner)
Marcus Foster Memorial Award (State)
Taynesha LeBeaux, Antioch USD