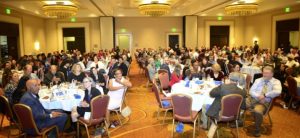 Each year members Region 6 nominates exemplary individuals for numerous awards ACSA sponsors. These awards recognize individuals and bring distinction to the individual's school/district. For more information, visit state ACSA's About Us page and click on the Awards Program tab.
The 2023 ACSA Award Program is open for nominations. Nomination forms are available on the ACSA Awards Platform. Watch a short demo of the new online platform to find out how you can nominate your colleagues, or read frequently asked questions.
All Charter winners will be recognized at the Region 6 Awards Dinner on April 27, 2023. They do not have to be ACSA members; however, Region winners must be ACSA members.
Complete Nomination Packets must be submitted by January 19, 2023 to be considered for Region 6 and State recognition.
Awards include:
Ferd Kiesel Distinguished Service Award
Marcus Foster Memorial Award
Robert E. Kelly Retiree Award
Administrators of the Year – nominees are honored in job-alike categories
Valuing Diversity Award – member whose work in promoting diversity epitomizes ACSA's mission
Partners in Educational Excellence – programs and businesses that collaborate to support education
One letter of recommendation must be included with nomination
Timeline
Nominations for 2023 program open
August 1, 2022
Training at the region level
August  2022
Work with Charter President on your Charter's nomination process. Each charter determines its charter winners submitted to Region 6. Charter winners become Region nominees. Charter Presidents must be notified of all nominations.

Contact Pam Hughes, Vice President/Programs and Awards Committee Chair with any questions at: 

Nominator must send a photo of the nominee (in JPEG format and nominee's name as file name) to Pam Hughes.

Charter Presidents should submit a list of their charter winners and nominees to ">Pam Hughes by January 19, 2023. Note: Online platform closes on this date.

August 1, 2022 – January 19, 2023
Region 6 Nomination Committee meets to review nominations of Charter winners and select Region winners
January 31, 2023
ACSA State deadline for Region nominations. Region winners become finalists for State Awards.
February 9, 2023
ACSA Region 6 Awards Dinner
All Region 6 nominees and winners will be honored.
April 27, 2023
---
| | | |
| --- | --- | --- |
| | | |
| | | |
2022 ACSA Region 6 Administrators of the Year
Superintendent: Adam Clark, Mt. Diablo USD
Secondary Principal: Megan Keefer, San Ramon Valley USD
Middle Grades Principal: Deborah Brill, Albany USD
Elementary Principal: Farnaz Heydari, West Contra Costa USD
Central Office Administrator: Kimberly Noble, San Lorenzo USD
Secondary Co-Administrator: Christopher Fortenberry, Castro Valley USD
Elementary Co-Administrator: Wendy Fruit, Oakley UESD
Classified Leader: Jennifer Hawkins, New Haven USD
Confidential Employee: Shelly Hadley, Acalanes UHSD
Personnel Human Resources Administrator: Cheri Benafield, New Haven USD
Adult Education Administrator: Steven France, Acalanes UHSD
 Career Technical Administrator: Amy Robbins, Tri Valley ROP
Special Education Administrator: Christine Koehne, San Ramon Valley USD
Business Services Administrator: Lisa Gonzales, Mt. Diablo USD
Student Services Administrator: Ammar Saheli, San Lorenzo USD
Curriculum & Instruction Administrator: Julie Dooley, Contra Costa COE
Continuation/Ed Options Administrator: Chris Holland, Liberty UHSD
Retired Administrator: Gail Yothers
Technology Administrator: Greg Ko, Castro Valley USD
Valuing Diversity Award: Jason Reimann, Castro Valley USD
Partners in Educational Excellence Award: Chamberlin Education Foundation, West Contra Costa USD
*Region winners who are ACSA members will be finalist in their category for state ACSA Administrators of the Year 2022.
Complete list of Region 6 Nominees: AOY 2022 list for Announcement