Congratulations to the following 2022 Region 6 Every Student Succeeding Students!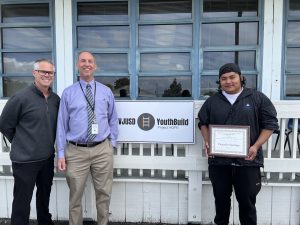 Region 6 2022 Winner
Carmelo Santiago
Livermore Valley JUSD YouthBuild
Livermore Valley JUSD
Look for Carmelo's story on the ACSA website.
He will also be featured in an upcoming issue of the EdCal.
​Region 6 2022 Finalists
Jessica Fajardo
Arroyo High School
San Lorenzo USD
Anissa Haro
Decoto School
New Haven USD
Abedel Eid
Decoto School
New Haven USD
Noemi Salazar
James Madison School
San Leandro USD
Isabella Pacheco
Livermore HS
Livermore VJUSD
​
ACSA believes every student deserves equal opportunities to succeed. On every school day throughout California, dedicated educators and courageous students overcome tremendous obstacles to reach their goals of academic excellence. Their success is our success; their powerful stories are our inspiration.
ACSA's Every Student Succeeding program honors students who exceed our expectations and the educators who support them along the way. We are proud to highlight these young men and women who have overcome great obstacles to succeed. They face life's challenges head on. Their stories are remarkable and their futures are bright. For more information, visit state ACSA's website for overview of this program.
Every year, ACSA Region 6 honors students in Alameda and Contra Costa Counties at all grade levels who have succeeded, against all odds, beyond expectations or simply won the hearts of the administrators and other educators who helped them achieve their goals.
Nominations for Every Student Succeeding 2023 are due on February 17, 2023.
Nomination form can also be downloaded here.
Please submit your nominations to

Region 6 winner and finalists will be recognized at the Region 6 Awards Luncheon on March 15.