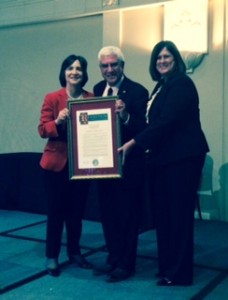 Each year members Region 6 nominates exemplary individuals for numerous awards ACSA sponsors. These awards recognize individuals and bring distinction to the individual's school/district. For more information, visit state ACSA's About Us page and click on the Awards Program tab.
All nominations are to go through the charter president or designee and then forwarded to Cindy Matteoni, Region Award Chairperson.
All nominees will be recognized at the Leadership Summit Awards Dinner on June 22, 2017. Nominees do not have to be ACSA members; however, Region winners must be ACSA members.
Complete Nomination Packets must be submitted to Cindy Matteoni by December 2, 2016
Awards include:
Ferd. Kiesel Distinguished Service Award
Marcus Foster Memorial Award
Robert E. Kelly Retiree Award
Administrators of the Year – nominees are honored in job-alike categories
Valuing Diversity Award – member whose work in promoting diversity epitomizes ACSA's mission
Partners in Educational Excellence – programs and businesses that collaborate to support education
Completed Application Packets must include:
Nomination Narrative or Summary about why the nominee deserves this recognition (see Instructions for AOY Nominations)
Digital picture in jpg format (Pictures should be saved with nominees last name, first initial and district / ACSA Charter)
Timeline
Awards information distributed to Charter Presidents and Members of the Region 6 Board
August 13, 2016
Award Applications Available
September 1, 2016
Charter Presidents meet with Superintendent or Charter Administrators to nominate administrators
September/October 2016
Submit completed nomination forms to Cindy Matteoni, Vice President/Programs and Awards Committee Chair at: matteonic@mdusd.org

Note: Only Charter Presidents should submit the nomination for the charter

December 4, 2016
Confirmation of completed nominations
December 9, 2016
Region VI Nomination Committee meets to review applications and select Region winners
January, 2017
ACSA State deadline for applications
February 6, 2017
ACSA Region VI Awards Dinner
All Region VI nominees and winners will be honored.
Casa Real at Ruby Hills Winery
410 Vineyard Ave., Pleasanton, CA
June 22, 2017