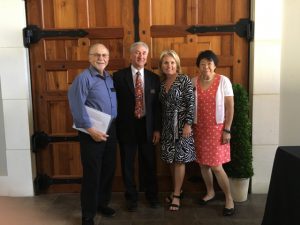 Each year members Region 6 nominates exemplary individuals for numerous awards ACSA sponsors. These awards recognize individuals and bring distinction to the individual's school/district. For more information, visit state ACSA's About Us page and click on the Awards Program tab.
The 2018 ACSA Award Program are open for nominations. Nomination forms are available on the ACSA Awards Platform. Watch a short demo of the new online platform to find out how you can nominate your colleagues, or read frequently asked questions.
All nominees will be recognized at the Leadership Summit Awards Dinner on June 21, 2018. Nominees do not have to be ACSA members; however, Region winners must be ACSA members.
Complete Nomination Packets must be submitted by January 8, 2018 to be considered for Region 6 and State recognition.
Awards include:
Ferd. Kiesel Distinguished Service Award
Marcus Foster Memorial Award
Robert E. Kelly Retiree Award
Administrators of the Year – nominees are honored in job-alike categories
Valuing Diversity Award – member whose work in promoting diversity epitomizes ACSA's mission
Partners in Educational Excellence – programs and businesses that collaborate to support education
Timeline
Nominations for 2018 program open
August 15, 2017
Charter Presidents meet with Superintendent and/or Charter Administrators to nominate administrators
September/October 2017
Submit completed nomination forms online. Contact Cindy Matteoni, Vice President/Programs and Awards Committee Chair with any questions at: matteonic@mdusd.org

Note: Only Charter Presidents should submit the nomination for the charter.

The Charter Presidents should submit a list of their charter winners to Cindy Matteoni by January 8

January 8, 2018
Region VI Nomination Committee meets to review applications and select Region winners
January 12, 2018
ACSA State deadline for applications
February  5, 2018
ACSA Region VI Awards Dinner
All Region VI nominees and winners will be honored.
Casa Real at Ruby Hills Winery
410 Vineyard Ave., Pleasanton, CA
June 21, 2018
---
Congratulations to the Region 6 Administrators of the Year!
Superintendent, Janet Schulze, Pittsburg USD
Secondary Principal, Paul Mansingh, West Contra Costa USD
Middle Grades Principal, Sheryl Sweeney, Dublin USD
Elementary Principal, Lorianne Ventura, Dublin USD
Central Office Administrator, Julio Franco, West Contra Costa USD
Secondary Co-Administrator, Jennifer Friesen, Pleasanton USD
Elementary Co-Administrator, Kristen Candaux, Dublin USD
Classified Leader, Jackie Carvajal, Antioch USD
Confidential Employee, Aimee Cayere, Castro Valley USD
Personnel Human Resources Administrator, Cheryl Cotton, West Contra Costa USD
Adult Education Administrator, Beth Cutter, Pleasanton USD
Special Education Administrator, Kevin Nazario, West Contra Costa USD
Business Services Administrator, Micaela Ochoa, Pleasanton USD
Pupil Personnel Administrator, Rinda Bartley, Castro Valley Unified District
Curriculum & Instruction Administrator, Michael Bowen, Brentwood
Continuation/Ed Options Administrator, Ilene Foster, Liberty UHSD
Technology Administrator, Todd Airola, Liberty UHSD
Valuing Diversity Award, Tracie Noriega, New Haven USD
Partners in Educational Excellence Award, Big Break Visitor Center – East Bay Regional Parks District