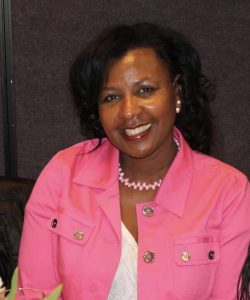 It is my honor to serve as the President of Region 6. I began my membership in ACSA as a student member and I have been fortunate to have ACSA as a part of my professional life throughout my administrative career.  ACSA's quality professional development such as the Principal Institute helped transform my leadership and shape me into the leader I am today!
I look forward to the exciting work that we will embark on this year!  We have bold and courageous leaders from Alameda and Contra Costa counties who work tirelessly in pursuit of equity and academic excellence for the students for whom we serve.
ACSA's new strategic plan provides a clear roadmap for the focus of our work. Region 6 will focus our work on advocacy of policies and legislation that support our public educational system, a renewed focus on professional development and networking, and opportunities to be innovative and transformational in our leadership by leading with an equity lens, integrating technology, and leveraging the digital resources into our daily work.
This year's 2-day leadership retreat will provide our region leaders an opportunity to participate in some team building, networking and to set specific goals and objectives in alignment with our ACSA strategic plan.  This will inform the work for the year of our executive board, state representatives, charter presidents, and committee and council representatives.
We will work to ensure our charters are active, visible, and communicating the vision of ACSA.  We will work to reactivate dormant charters and increase ACSA membership in the region by engaging with our members and communicating the vast benefits of ACSA membership.   We will continue to build the capacity of our new leaders through mentorship opportunities, professional development support, and provide support for innovative ideas through the distribution of mini-grants and direct support to our students via scholarships and the "Every Child Succeeds" nominations.
Region 6 leaders are bold and courageous and working together by sharing effective practices, innovative ideas, and leading with an equity lens, we can make a difference in the lives of all our students! I encourage you to take advantage of Region 6 sponsored events such as the Women's Leadership Network (WLN) activities as well as our annual Leadership Summit in June.  Finally, I encourage you to attend the State ACSA Leadership Summit which will be held in November in San Diego, CA
I look forward to visiting you all in your respective charters and seeing the awesome work that you do. I am very collaborative and look forward to hearing from you.
Sincerely,
Sonja Neely-Johnson
President – Region 6
Director, Special Education- Secondary – West Contra Costa Unified