New Region 11 President David Bowling led region leaders through the Planning Retreat for 2016-2017, June 13 and 14, at The Padre Hotel in Bakersfield.
Monday's session began with a meeting of the Charter Presidents, who were joined after lunch by the Executive Board members. Lunch was sponsored by Foresters Financial Services. That evening family, friends and colleagues gathered to honor Dick Schlagel, retiring Region 11 Newsletter Editor.
Tuesday's meeting kicked off with an activity which gave the group an opportunity to get to know each other a little bit better. Special guest KCSOS Associate Superintendent Dr. Mary Barlow welcomed members to the retreat, and the group was honored to hear from Dr. Ralph Porras, State ACSA President, who shared his vision for the next year.
Lunch was sponsored by VALIC Financial Advisors, Inc.
Along with other business, Bowling led the group through an exercise designed to establish the region's goals for 2016-2017. A draft of those goals was created and will receive final approval at the next board meeting, Sept. 1.
Thoughts from Region 11 President David Bowling

Region 11 has great momentum locally and across the State of California due to the fine leadership of my predecessors. Planning for the coming school year was critical to keep the region moving forward in a unified direction; the Region retreat provided the time to do just that. Charter and Region leaders came together to brain-storm goals that will push our organization even further toward aggressively marketing our organization and gaining influence in the State. Charters are now asked to pick up that torch and create their own goals to move us forward inclusively so that all members are informed and engaged with the organization.

Of course, it wouldn't be a "retreat" if we didn't have some team building and fellowship. Saying goodbye to Dick Schlagel as he retires as the Region 11 newsletter editor was bitter-sweet, and nearly 70 people showed up at The Padre Hotel in Bakersfield to roast him and wish him well. On Tuesday, Region board members shared moving personal stories of their most memorable experiences in our profession, and a few personal secrets were dusted off as well!

I look forward to the coming instructional year in humble service to Region XI as well as our supporting charter members. I encourage any member that hasn't been to a charter meeting in a while to stop in to see the progressive changes going on in our organization. Opportunities for meaningful involvement at the Charter, Region, and State level present themselves regularly, and we encourage all members to join our efforts in supporting positive changes at all levels of government to promote the betterment of the students and families we serve.
Richard "Dick" Schlagel honored after 29 years of service to Region 11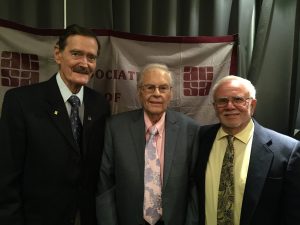 Family, friends and colleagues gathered Monday evening, June 13, at The Padre Hotel in Bakersfield to honor Richard "Dick" Schlagel, who is retiring as the Association of California School Administrators (ACSA) Region XI's Newsletter Editor.
Schlagel joined ACSA as a charter member in 1971 and became a life member after retiring. He served as Region XI President in 1981-1982 and also held a 3-year term on the State Junior High Committee and the Retirement Committee.
He became the Newsletter Editor in 1987. His goal as editor was to keep the membership informed of various events and activities of both the Region and the five local Chapters. He also wanted to use this vehicle to recognize scores of outstanding administrators on what they are doing across our vast five-county area. Schlagel has accomplished this and much more. His dedication to education and ACSA is remarkable.
"Being responsible for the publication of 116 newsletters and 29 handbooks has presented a number of challenges; however, more importantly it has provided me a variety of wonderful opportunities for making life-long friendships with scores of school administrators across our vast Region XI and its five local Charters. I am so grateful and appreciative to have been given this remarkable and rewarding assignment." – Richard "Dick" Schlagel
During the evening, memories and expressions of gratitude and respect were shared.
Craig Wheaton, who admitted that Schlagel has been retired almost as long as he's been in education said, "I've always known I can depend on him. He's been there constantly and is a great advocate for what we're doing as administrators."
Bill Black talked a bit about the dynamic duo of Dick Schlagel and David Itzenhauser, fondly likening them to Batman and Robin. He said, "Emerson said the greatest gift is a portion of yourself and he's (Dick's) given everything …"
A family friend share an amusing story about when Schlagel was a principal without a secretary. She volunteered to fill the void, but said Schlagel was very hard on her, criticizing at every turn. Schlagel chimed in with, "worst secretary I've ever had!"
David Tonini expressed the fact that Schlagel is truly an inspiration to him … that he always wants to be on fire like him.
When Schlagel took the mic, he expressed his heartfelt appreciation for having the opportunity to serve this organization that he holds in such high esteem. Then, in the spirit of the upcoming Olympics, he passed his leftover supplies to Tonini – a few paper clips, a used yellow pad, Scotch tape "not too much," a pair of scissors and his camera, which has been duct taped together, along with the remaining duct tape. He handed off the baton – a newsletter rolled up with rubber bands – to Kathy Forsythe, incoming Director of Communications. Both attempted a running hand-off, but lack of space and the inability to run very fast prevented a glorious showing.
While Schlagel has completed 65 years in the education profession, he's not done yet. He has a few more projects on the horizon including writing two more books and continuing to team up with with Bob Pugh, one of his former teachers and very close friend in presenting the All-American Student Classic to students in grades 5-8.