State President Ralph Porras said, "Everyone has something to contribute … it's up to them to figure out what it is …" That was the challenge he set forth for ACSA members and the association. Porras, recently elected as state president, has been with the association for 20 years. He spoke at the May 12 ACSA Region 11 Board Meeting.
The day's business wrapped up with the installation of the Executive Board Officers for 2016-2017.
They are:
• President: David Bowling
• President-Elect: Donya Wheeler
• Vice President: Mike Vogenthaler
• Secretary: Lisa Horne
• Treasurer: Matt Diggle
• Past President: Valerie Brown
• State Board of Directors: Craig Wheaton
Administrator of the Year and Student Scholarship Awards Ceremony
Following the board meeting, members were joined by student scholarship and Administrator of the Year award recipients and their families.
Festivities opened with the Presentation of Colors by the South High School JROTC, Kern High School District. The Beardsley Jazz Ensemble, Beardsley School District, provided entertainment during lunch.
The following students each received a $500 scholarship from ACSA Region XI:
• Cameron Analee Aragon, Garces High School
• Jake Joseph Bailey, Centennial High School
• Lauren Barlow, Hanford High School
• Kelcey Ann Carrasco, Tulare West High School
• Emily Castleman, Hanford West High School
• Will Christman, Burroughs High School
• Dylan Dumlao-Little, California City High School
• Sydney Garcia, Harmony Magnet Academy
• Juliann Hallum, Garces High School
• KaytLynn Johnson, Paraclete High School
• Noah Kroutil, Porterville High School
• Malori Minares, Tehachapi High School
• William Moore, Bishop High School
• Ryan Morosa, Libery High School
• Brianna Perez, Redwood High School
• Caeleb Roney, Rosamond High School
• Kameron Evarette Trevino, Redwood High School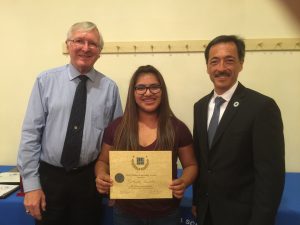 The Every Student Succeeding award was given to Gabriela Santillan, 2016 graduate of Mt. Whitney High School. She will also be recognized at the 2016 ACSA Leadership Summit in November.
Dick Schlagel and Dave Itzenhauser presented the Itzenhauser/Schlagel Honorarium Award to John Snavely. Frank M. Chavez received the Marcus Foster Memorial Award.
Recipients of the Administrator of the Year Award include:
• Superintendent: Tim Hire
• Secondary Principal: Michael Vogenthaler
• Middle Grades Principal: Angel Valdez
• Elementary Principal: Lisa Decker
• Central Office Administrator: Lisa Castillo
• Secondary Co-Administrator: Joy Naylor
• Confidential Employee: Traci Fullerton*
• Career Technical Education: Bill Edminster*
• Special Education: Joyce Nunes
• Superindendent-Principal: Dr. Don Clark*
• Business Services: Nathan Hernandez
• Curriculum and Instruction: Bobby Peters
• Continuation/Educational Options: Jo Anne McClelland
• Professor of Education: Miguel Guerrero
• Technology Administrator of the Year: Dr. Kevin Silberberg
*Region XI is proud to announce that Traci Fullerton, Bill Edminster and Dr. Don Clark were also honored with this award at the state level.