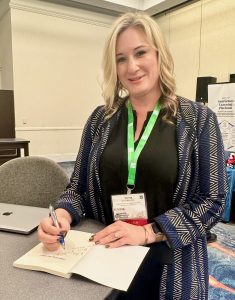 Tulare Charter's Donya Ball, Ed.D. will set the tone for the 7th Annual Mid-State Conference — Navigating the Waters of School Leadership — when she speaks during the Pre-Conference about her book "Adjusting the Sails — Weathering the Storms of Administrative Leadership."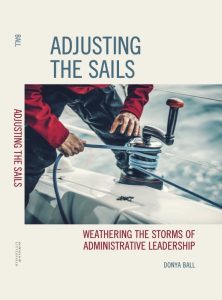 As an administrative leader for over 20 years, Donya has gone through many, many experiences in leadership. "I absolutely knew I wasn't alone in those experiences," she said. "We really don't share with others because we are alone and running a million miles an hour."
This was her inspiration for writing the book. She wanted to give a space to other leaders to be able to find comfort, camaraderie within the stories they share together. She wanted to write a book about the most challenging areas of leadership and the importance of and how to overcome those challenges. Donya sprinkles humor, sarcasm, and engaging stories from multiple leaders within the lessons the challenges pose. It's important to note she does not consider the stories hers. "They are our stories," she said.
Donya chose the metaphor of sailing because a master sailor encounters many unexpected situations — storms, calm waters — that they must navigate out of. The winch on the book cover is there because it is a tool for tightening or loosing a cable — give and take, push and pull to adjust the position of the sails and navigate the sailboat out of unexpected situations. Leadership is a give and take, a push and pull, depending on the direction of the wind, on the challenges presented. 
The pessimist complains about the wind;
the optimist expects it to change;
the realist adjusts the sails.
The William Arthur Ward quote, above, served as the original inspiration for the book title. "Hope doesn't result in change, I choose to approach leadership in a real way … form solutions … involve the people we are there to serve," said Donya.
During the summer of 2019, on the deck of a very modest Airbnb, Donya started her first chapter. A full three years later, the book was complete, a publisher had been secured, and her book was published. Donya is quick to tell those who have the dream of writing a book, "You have to start somewhere." She says, we have a story we are very passionate about. "The only difference between me and others is that I started and I was persistent in finishing," she said.
The book consists of 10 chapters, stories every leader can relate to. "I love the content … I love talking about leadership and the challenges and the very real stories that happen behind the scenes," said Donya.
She has found that chapter six — Passed Up: Rebounding After Career Disappointment — has been the most popular. In this chapter, Donya shares a very personal story and offers help for those who have been focused on a career trajectory, but passed up or denied that position. It is an embarrassing process, one that requires a lot of vulnerability. It is her hope that her book is a source of comfort for leaders who have found themselves in this position.
Donya is proud to have procured endorsements from very well respected professionals in the field, including Douglas Reeves, PhD, researcher, author of Achieving Equity and Excellence and founder of Creative Leadership Solutions; and, Michael Fullan, professor emeritus, University of Toronto, and international consultant, who said, "A book on leadership like no other! Adjusting the Sales will pin you to the ground from the first page and not let you up until the end …"
Donya has expanded her book into a new and exciting project, a podcast she calls Fridays@5 because that is when every leader thinks about decompression — story telling, kicking off their shoes, sitting in their favorite spot.
On Fridays@5, each chapter of her book is its own episode, for which she brings in a special guest who is a leader in their field. Together, they enjoy a lively discussion about the chosen topic. Fridays@5 podcast is available on Vimeo, Apple Podcast and Libsyn. To join in, go to http://donyaball.com/podcasts/
Donya has already signed her second book deal and has begun getting stories from the field, meeting with leaders on the weekends and in the evenings. She hopes to publish in the summer or fall of 2023.
The Mid-State Conference will take place March 10-12 at the Embassy Suites in San Luis Obispo. Watch for more details and registration information coming soon.