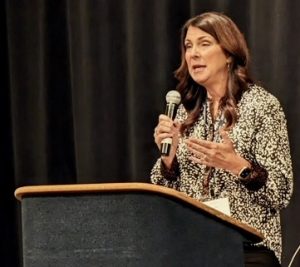 Sharon Dunn, MTSS Leadership Consultant, LLC, former principal of Loudon Elementary, Panama-Buena Vista Union School District, had the honor of presenting at the 6th annual Conference of The Reading League, NY — Bringing the Science of Reading to Light — on October 21. Sharon, along with Dr. Stephanie Stollar, educational consultant, and Diane Bryson, former first-grade lead teacher at Loudon Elementary, 95 Percent Group regional account executive, presented on Using MTSS to Bring the Science of Reading to Light: How to Improve Reading Outcomes Against All Odds.
In their session, administrators and teachers gained understanding on how to use MTSS to build instructional capacity to improve reading outcomes through the Science of Reading. Sharon's former school, Loudon Elementary, was highlighted as how a low performing school significantly improved reading outcomes. Participants gained understanding on "how to begin" a school and/or district-wide plan to inform instruction and improve reading outcomes for all students.  
"Being a part of The Reading League's national conference was such a privilege," said Dunn. "I was able to participate in incredible professional learning and learn from the best of the best cognitive psychologists, educational researchers reading specialists, and leading educators across the country and abroad such as Dr. Anita Archer, Dr. Margie Gillis, Dr. Pamela Snow, Dr. Lucy Hart Paulson, Dr. Nicole Patton Terry, Dr. Shawn Anthony Robinson, Dr. Pam Kastner and Lyn Stone just to name a few… it was truly an incredible experience!"
The Reading League is a national education nonprofit led by educators and reading experts dedicated to promoting knowledge that will accelerate the global movement toward evidence-aligned reading instruction. Their mission is to advance the awareness, understanding, and use of evidence-aligned reading instruction.
The purpose of The Reading League is to increase knowledge of science-based approaches to teach reading as well as research that demystifies how people learn to benefit the lives of millions of students. They train and support educators and school leaders.
A group of enthusiastic California educators, administrators, and volunteers are holding a series of exploratory meetings to help launch a California Chapter of The Reading League. The CA Chapter hopes to launch in early 2023.