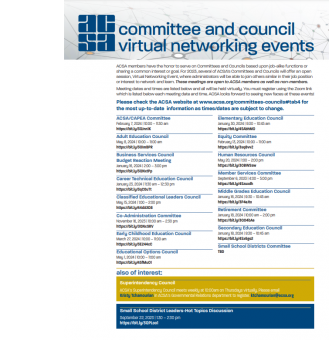 ACSA members have the honor to serve on Committees and Councils based upon job-alike functions or sharing a common interest or goal. Occasionally, some of ACSA's Committees and Councils offer an open session, Virtual Networking Event, where administrators are able to join others similar in their job position or interest to network and learn. These meetings are open to ACSA members as well as non-members.
Meeting dates and times are listed below and all will be held virtually. You must register using the Zoom link listed below each meeting date and time.
Learn more about the Committee and Councils by attending one of these events!  Click Here to download the flyer.