IMPORTANT MESSAGE
The annual ACSA Region 10 Spring Fling, featuring a keynote address from Assemblyman Robert Rivas, is Fri., May 6. It'll be the first time in two years that the San Benito, Santa Cruz, Monterey, and Salinas Charters will be able to celebrate the work of administrators together.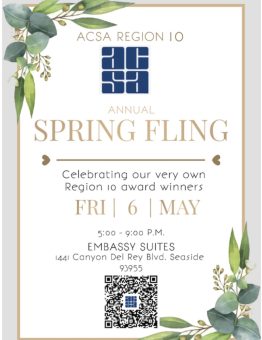 Click to enlarge.
---
ABOUT ACSA REGION 10
ACSA Region 10 represents school administrators and supervisors in three counties: Monterey, San Benito, and Santa Cruz. We serve four charters: Monterey, Salinas, San Benito, and Santa Cruz.
The region reflects the diversity of the area in its geography and demographics. Our school districts' locations range from remote to rural to suburban and urban. Districts range in size from the one-school-districts with 30 or fewer students to large urban districts with more than 20 schools and 20,000 students.
WE SUPPORT, GUIDE, AND INSPIRE PUBLIC SCHOOL ADMINISTRATORS
Join Region 10 today!
ACSA REGION 10
ACSA REGION 10 Social Media Pages
Twitter – https://twitter.com/acsar10
Instagram –https://www.instagram.com/acsaregion10/
Facebook –https://www.facebook.com/acsa.regionx.3