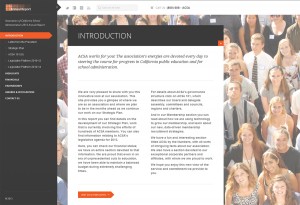 State ACSA is very pleased to present to you this online "State of Our Association," which offers a look at where we are as an association and how we are moving forward. As you click through ACSA's Annual Report, you will be able to find details of our developing Strategic Plan, our advocacy efforts, ACSA's financial status and governance structure, and much more.
Professional Development
2012-14 Legislative Platform
2012 Awards and Honorees
Corporate Partners
ACSA Budget: A Look Ahead
Publications and Resources
From the introduction: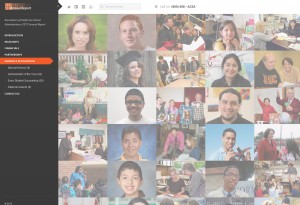 In this report you can find details on the development of our Strategic Plan, work that is currently involving the efforts of hundreds of ACSA members. You can also find information relating to ACSA's legislative agenda for 2013.
Here, you can check our financial status; we have an entire section devoted to that information. We are proud that even in an era of unprecedented cuts to education, we have been able to maintain a balanced budget during extremely challenging times.
For details about ACSA's governance structure click on ACSA 101, which describes our board and delegate assembly, committees and councils, regions and charters.
And in our Membership section you can read about how we are using technology to grow our membership, and learn about our new, data-driven membership recruitment strategies.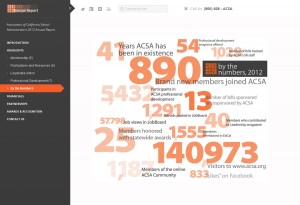 We have a fun and interesting section titled ACSA by the Numbers, with all sorts of intriguing facts about our association. We also have a section devoted to our exceptional corporate partners and affiliates, with whom we are proud to work.
We hope you enjoy this new view of the service and commitment we provide to you.