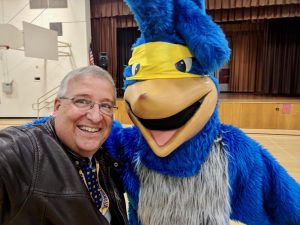 Stuart Packard, Superintendent at Buttonwillow Union Elementary School District in Buttonwillow, has been named President of the Small School Districts' Association (SSDA). Packard is a member of ACSA West Kern Charter. He served as Vice President of Legislative Action for the charter in 2018-2019.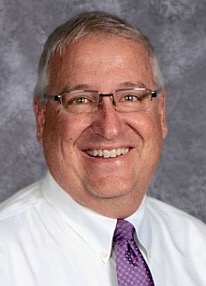 Packard began his career in the banking industry, but soon found it was not for him. He returned to his alma mater, the University of La Verne, to obtain his teaching credential. After a short stint teaching in the Ontario-Montclair School District, he moved to Kern County where he continued teaching, rising through the ranks, working at various schools throughout the county, settling in Buttonwillow as Superintendent/Principal ten years ago. He is now the Superintendent of the district.
Packard has served the educational community on several boards, committees and councils — Schools Legal Board of Directors, Kern County Facilities Committee, Kern County SELPA Executive Council, and as an alternate on the SISC Board. He has been a member of the executive board of the Small School Districts' Association since 2013 and served as Vice President in 2019-2020, with the main focus being Legislative Action.
Packard and his wife, Janay, an intervention teacher at Ronald Reagan School in the Panama-Buena Vista Union School District, have two children, both of whom attended Stockdale High School in Bakersfield. Tyler studied business at the University of Oregon and now works for a tech company in Bellevue, WA. Amy is at Point Park University in Pittsburg, PA on a soccer scholarship and wants to teach early education.
In Packard's own words:
"SSDA's mission has always been focused on students and the needs of small and rural districts throughout the state. From its founding 32 years ago we have wanted to make sure that the voice of small schools and districts is heard.
As we move forward as an organization we have our immediate, intermediary, and long term goals. While our initial goals remain consistent, we have some more focused initiatives. Ongoing goals are providing superintendents, teachers and collaborative relationships that will build our schools and districts. The leaders in these districts need the tools to be successful in an environment that all small school folks understand is different.
Our immediate goal is to assist districts throughout the state with working through the reopening of our schools. Some of our schools may be in highly impacted counties, but a district could not have any outbreaks of COVID and be up to 2.5 hours away from areas that are most seriously impacted. We also work closely with the smaller county offices and many of these counties are seeing very limited outbreaks of COVID.
Our intermediary goals are focusing on helping districts get a handle on the fiscal crisis that is looming and in many cases has already severely impacted districts.
Our long range goals are to extend the relationships to small district associations throughout the country while working with the National Rural Education Association. We want to continue our focus of building relationships with the tech industry and be a vital link in assisting our members in closing the proverbial digital divide.
And lastly is to work closely with other organizations that will enable us to be leaders in providing the necessary trainings and connections to assist those small schools throughout the state that need some form of assistance, whether it be fiscal, management, curriculum, or leadership related.
In many cases the small school districts are led by people who are in their first superintendency. Many have not dealt with the upcoming budget issues. Many have been in place during a time of great fiscal growth. Therefore we need to support these districts by providing statewide mentors.
With the extremely unfortunate outbreak of COVID-19, SSDA is now in the room and working with other educational groups and organizations, as well as meeting with both the State Board President, State Governor's office and the State Superintendent's office directly.
I believe in what ACSA is doing. I am proud to be a member of ACSA, and very proud of the positive and close relationship that SSDA and ACSA are continuing to cultivate. Our relationship is symbiotic as we both have goals that make students a priority.
It is apparent that one size does not fit all and that districts throughout this state are able to determine what is in the best interest of the people they serve. Our small and rural districts are a niche that represents 64% of school districts throughout the state.
The most rewarding part of the work I do is seeing small districts flourish and our ability to pivot quickly and adjust to the needs of our families. I work in Buttonwillow that by all accounts is labeled extremely high needs. As a school we have created a strong relationship with our families. We continue to address the SEL and the equity issues that exist and that are evident in small and rural communities throughout California. When I watched one of our former students go on to UCLA this past fall to study microbiology, with the goal of being a brain surgeon, that was the ultimate reward. To think as a school we assisted her in her goal is tremendous. It does not matter where you come from, the impact of a small school community is tremendous when you are working with many families that may not even envision the paths that are open to our students.
Another specific reward was watching our staff have 80% of our students on line within three hours this past spring, and within seven days we had all of our families online by providing hot spots for every family without internet. Some of our parents were able to continue their education instead of dropping out because we allowed them to stay connected to Bakersfield College. We also had a parent who had the opportunity to speak about small and rural school connectivity with Governor Newsom and first partner Jennifer Newsom regarding the importance of narrowing the digital divide."