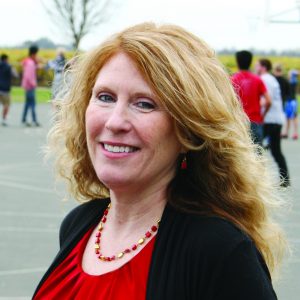 The Region 11 contingent to the State Leadership Conference, recently held in Los Angeles, returned with great news. Terri Rufert's nomination for State Board was accepted and she will be running for Vice President of Legislative Action unopposed. After the election in May, Rufert will be the first Region 11 representative to sit on the State ACSA Board.
Following is her position paper:
"The work required of the Vice President of Legislative Action is an area that I am passionate about. Whether it is state and federal legislators, Superintendent Torlakson, the State Board of Education or the Governor, I have helped lead our regional and state work to gain support of our positions for 16 years.
I bring the skills and experience of being Vice President of Legislative Action for my region for four years, as well as one year on the Legislative Policy Committee, and two years on the ACSA State Board. Currently, I am the Region XI representative on the ACSA Small Schools Committee, in my second year on ACSA's State Board Advisory Group, and a member ACSA's Women's Network Group. I am extremely committed to promoting ACSA as the leading advocate for our state's 6.2 million students. On many occasions I have been asked to speak on behalf of ACSA, students, and administrators at state hearings because I'm a trusted leader who understands the nuances of issues, from budget to curriculum and student services to principals.
As State Vice President of Legislative Action, I believe it is important to support and encourage each region's Vice President of Legislative Action in the work they to do back home. We all need to empower other administrators to be part of the "One Voice for Students." It is absolutely crucial for us to make sure our voices are heard and our communities represented. Together let's continue to make a difference. I would appreciate your vote."