Postponed since April of 2020 because of COVID-19, golfers were happy to get together in person for the 18th Annual West Kern/Ordiz-Melby District Cup Golf Tournament on Saturday, Sept. 11, 2021, at Sundale Country Club in Bakersfield. Many felt it was like a reunion. "It was a great day … so glad to see so many ACSA members from West Kern and Tulare," said Tom Giampietro, Tulare Charter Ambassador. The District Cup was taken home by the Bakersfield City School District team, with the Wasco Elementary Unified School District #2 team coming in second, and third place going to the Buttonwillow Union School District. The team called Magenta and the Boys won the open division, with second place going to Anacapa Engineering and third place going to Ordiz-Melby #2. Terry Wolfe, who organized the tournament for West Kern, said they had a good turnout and thanked all those who participated, and especially Ordiz-Melby Architects, Inc. for co-sponsoring this important fund-raiser year after year. Proceeds fund student scholarships for graduating seniors who are the children of West Kern Charter members. Watch for details about the 19th annual tournament planned for Saturday, April 23, 2022.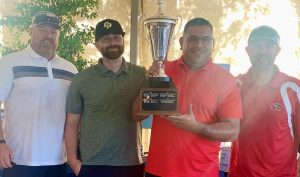 Mark Luque, holding the trophy, and his team
from Bakersfield City School District, winners of the District Cup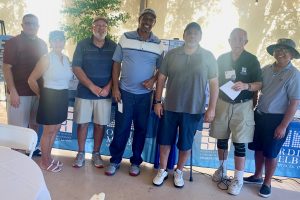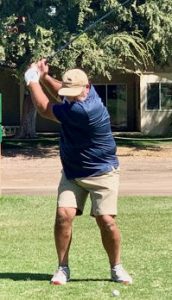 Wasco ESD team, second place in the District Cup division.
Tony Cole, Wasco ESD.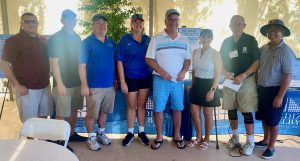 Buttonwillow USD team, third place in the District Cup division.
Heidi Witcher, Buttonwillow SD.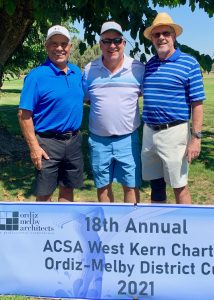 Left, to right, Tom Giampietro, Tulare Charter Ambassador; Stuart Packard, Superintendent of Buttonwillow USD, President of the SSDA and West Kern Charter Ambassador; and Kip Hearon, retired Superintendent of Panama-Buena Vista USD.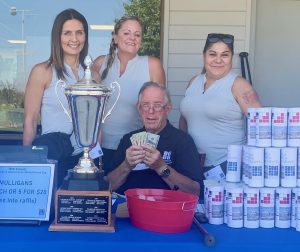 Tournament Committee:
Gracie Robertson, Gina Maples, Terry Wolfe, and Stephanie Franco.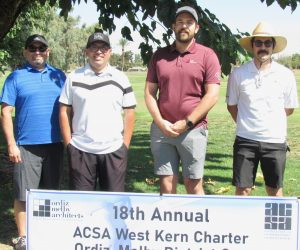 BJ Pacheco, Mark Torres, Joseph Zasoski, Mario Moreno (Ordiz-Melby Architects)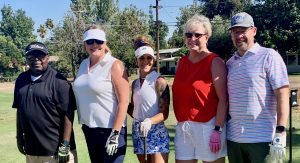 Darryl Johnson, Denita Maughan, Golf Pro from Backswing Events, Jennifer Irvin, Glenn Imke (PBVUSD)