ACSA Region 8 consists of Santa Clara County, at the southern end of the San Francisco Bay Area.
It is made up of nearly 400 schools and more than 30 school districts, the largest of which is San Jose Unified. In all, it serves about 262,000 students.
Information for our Members  |  Upcoming Events:
Women's Leadership Network Event – May 7, 2019
Join Dr. Mary Ann Dewan, Santa Clara County Superintendent of Schools, and Rosie Rios, the 43rd Treasurer of the United States, to network with one another and discuss how to unlock greater leadership potential in ourselves and others.
Free for ASCA members plus one guest is complimentary. Non-members $10.  Includes breakfast, networking, and engaging presentations.
For more information, see our flyer: Women's Leadership Network Presents
Register at: https://www.eventbrite.com/e/acsa-region-8-womens-leadership-network-event-tickets-52287560501
Escape the Room 2 – October 24th
On October 24, we will take our chances as a region at Escape the Room.  This year, we will be partaking at a new site that offers new challenges and more opportunity to have fun with colleagues from around our superb Region 8.  Our goal is to get at least one representative from each of our charters. Presidents, please feel free to share with your Charter colleagues on your executive team.  If you wish to participate, please complete the short survey, and I will send more information.  Space is limited, so please sign up by October 12th, a small waiting list will also be able to attend.  Light food and drinks will be provided. Please click below to join:
Sign up for Escape the Room Year 2!
New Calendar Feature on Region 8 Website!
You may have noticed the addition of a Google Calendar on the right sidebar of this page. Thanks to our colleagues at state ACSA, we have a more accessible approach to seeing upcoming events.  If you would like to add the ACSA Region 8 calendar to your own Google Calendar, right-click and copy this link address, then go to your calendar settings and add.
CEL-ebration! Honoring Classified Educational Leaders
Join Region 8 in celebrating classified leadership on November 1, 2018, from 5 – 7:30 pm at the Santa Clara County Office of Education. Dinner and speakers are complimentary for all ACSA Region 8 members. Non-member classified leaders are welcome!  Register at bit.ly/ACSACELREG8.  For more information, see the flyer here: CEL Nov 1 copy
Women's Leadership Network – Empowering Self, Empowering Others
Join Dr. Mary Ann Dewan, Santa Clara County Superintendent of Schools and author Anese Cavanaugh, to network with one another and discuss how greater leadership potential can be unlocked through attention to intention, energy, and presence.  ACSA members are encouraged to bring a colleague.  This empowering evening will be September 13, 2018, at the Silicon Valley Capital Club in San Jose.
For more information see the flyer Empowering SelfEmpowering Others (3) and register at http://bit.ly/wlnsept13.
Women's Leadership Network – Empowering Our Future
Join Dr. Mary Ann Dewan, Santa Clara County Superintendent of Schools, and Emma Mayerson from Alliance for Girls, on Wednesday, May 30, for networking and learn how to develop persistence and courage and empower girls and women in their leadership journey. ACSA members are encouraged to bring a colleague.  For more information see the flyer at WLN Breakfast 2018 (11) and register at https://bit.ly/wln53018
Celebrating 2018 Region 8 Administrators of the Year!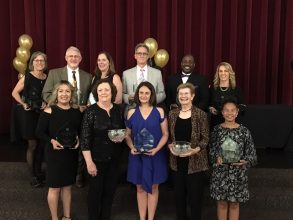 2018 1st Year Administrator Superstars!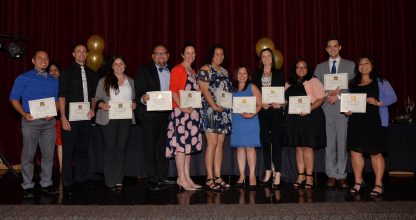 For a complete list of awardees, see ACSA Region 8 Award Winners.
2018 Legislative Action Day – see the pictures here!

Region 8 Presentation at May Leadership Assembly
Exciting News! Region 8 has been invited to present on the topic of Diversity at the upcoming Leadership Assembly in May. This is a great opportunity for us to highlight the tremendous work going on in our districts. We would love to highlight our districts and your work in these areas. Could you please send your pictures and best practices directly to Norma Rodriguez (nrodriguez@musd.org).
1st Year Administrator Recognition Information – Due April 13
Have a first-year administrator that deserves recognition for accomplishes made at his or her site?  See the ACSA 1st Year Recognition Award to apply for recognition.
ACSA Region 8 Mini-Conference – March 1
We are excited to invite you and encourage you to spread the word to those in your organizations and professional circles to attend the ACSA Region 8 Mini-Conference!  This is a FREE Premier Professional Learning event.  The conference will take place on Thursday, March 1st at Monroe Middle School in the Campbell Union School District from 4:30-7: 00 pm.  Inspiring speakers, engaging topics, networking, food and raffle prizes await you!!   Please register here by Monday, February 26.
Please share this email with others and note that non-ACSA members can also attend. Be one of the lucky ones and register soon! 
For more information, see the flyer, and for questions, please contact Sheila Walters at sheila.walters3@gmail.com or Dawnel Sonntag at dsonntag@campbellusd.org.
We look forward to seeing you on March 1st!
Check out our Region 8 Facebook page!
ACSA Classified Educational Leaders InstituteEarly-bird registration ends tomorrow, Jan. 30 for the ACSA Classified Educational Leaders Institute March 1 & 2 in Redondo Beach.
The conference is designed for educational leaders in business/ fiscal services, human resources/ personnel, maintenance/operations, custodial, technology, facilities, student services/instructional, including confidential and administrative assistants. 
See registration flyer for full details:
Early bird $265, $295 after Jan. 30 – for ACSA members, non-management, non-credential, not enrolled in a credential program

$265 for teams of three or more (from the same district with at least one ACSA member)
ACSA endorses Marshall Tuck for State Superintendent of Public Instruction
See news release here: http://regions.acsa.org/8/2018/01/18/acsa-endorses-marshall-tuck-for-state-superintendent-of-public-instruction/
Women's Leadership Network Event: Fulfilling Your Leadership Potential
February 26, 2018, 6pm – 9pm, Silicon Valley Capital Club
Join Dr. Mary Ann Dewan, and Allison Kluger, Communications Expert and Stanford Instructor, to learn how to capitalize on your executive presence and branding to empower you to fulfill your leadership potential. For more information and to RSVP, see the flyer here: 
ACSA Region 8 (4)
See more Photos from the 2017 Leadership Summit Reception!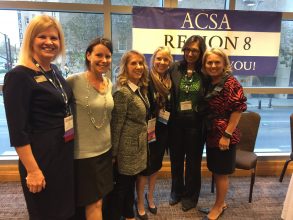 California Gubernatorial Candidate Forums
See more information in News and Resources.
Friendly Reminder October is a Grassroots Advocacy Month
We want to encourage members of our Region to connect with local legislators and invite them to school and district events.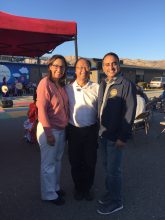 Region 8 President, Norma Rodriguez with Milpitas School Board of Education Member, Robert Jung and Assembly Member, Ash Kalra celebrating Mid-autumn Festival at Randall Elementary School.
Let's reach out to our legislators!
ACSA Seeks Assistance from Region 8 to Begin New Strategic Plan
Click here for more details
Region 8 Membership Event – Escape Room 10/23/17
Order your Leadership Summit Voucher by September 25!
Summit 17 Voucher Order Form
October is Grassroots Advocacy Month
Region 8 join hands to Educate & Advocate as per our Plan.  For more information and resources, go to News and Resources.
See ACSA Statement and Resources on DACA
Region 8 Executive Board Meeting and Leadership Forum
Leadership Forum. Sept.21 2017
State ACSA Board Officer Nominations Due Sept 8! See here for more details: https://www.acsa.org/About-Us/officer-nominations
Presentation from the Region 8 Leadership Retreat: https://sites.google.com/musd.org/acsaregion8/2017-18-documents


.