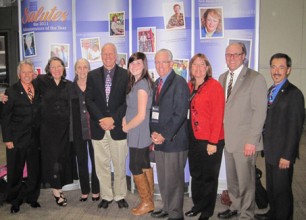 The mission of ACSA is to ensure that all students have the essential skills and knowledge needed to excel. On every school day throughout California, dedicated educators and courageous students overcome tremendous obstacles to reach that goal. Their success is our success; their powerful stories are our inspiration.
ACSA's Every Student Succeeding program honors students who exceed our expectations and the educators who support them along the way. We are proud to highlight these young men and women who have overcome great obstacles to succeed. They face life's challenges head on. Their stories are remarkable and their futures are bright.
For more information, visit state ACSA's ESS Program page.
The 2011 Region 10 ESS Award recipient is Samantha Gruys.
The Resource Support Program at Cypress Charter High School has helped Samantha Gruys clarify her understanding of what it takes to tackle life's bigger issues. Supported by school staff and her grandmother, and possessing remarkable resilience and

perseverance, Sam is poised to attend Cabrillo College in the fall.
Cypress Founding Principal Les Forster takes pride in Sam's growth over her four years at the school. Despite challenges that include the death of her father in her sophomore year, Sam is successfully maneuvering the maze of academic, social and life changes with a strong outlook and tempered spirit.
She has worked through an impressive array of assignments and special projects in all core subjects and even passed the California High School Exit Exam on her first attempt.
Samantha Gruys stands tall in her future pursuits, and ACSA salutes her and the Region 10 educational support team that helped her along the way.