ACSA Region 7 believes in supporting its members and students by providing several opportunities to earn scholarships. The Scholarship Committee consists of the Region 7 President-Elect and President–Elects from each charter. Persons serving on the committee whose child has applied for a scholarship must abstain from voting. Scholarships will be awarded as follows:
Objective: Promote and encourage professional growth of ACSA members
For: Region 7 State ACSA Members/Professional Development
Amount: $500.00 each (1 for Academy, 1 for Personnel Institute, 1 for State Summit, 1 for Every Child Counts Symposium, 1 for CEL Institute, 1 for Region Spring Conference).
Due: Academy due: September 6, 2023; Personnel Institute due: September 13, 2023; State Summit due: October 18, 2023; Every Child Counts Symposium due: December 13, 2023; Region Spring Conference due: March 31, 2024; CEL Institute due: TBD
Objective: Assist children of ACSA members to pursue post high school endeavors
For: Post high school educational endeavors for children of Region 7 State ACSA Members
Amount: $1,000.00 each (4 awarded per year)
Due:  March 8, 2024
Application:  Must include – 2 letters of recommendation, essay, transcripts.
Please email letters of recommendations and transcripts to Tami Garcia at: ">
Objective: To honor students who have succeeded against all odds
For: One nominated student from each charter
Amount: One awardee from the Region will receive $1,000.00 for education
Due:  March 1, 2024
Application:  One student will be selected to be honored at the State ACSA Conference representing Region 7. The application must be submitted on the State ACSA Every Student Succeeding nomination form.
For more information contact:
Tami Garcia, Principal
Stanislaus Union School District
209-527-0450
">
Region 7 2023 ESS Student Announced
Each year our Region selects one ESS student from among the charter ESS students to represent Region 7 at the State ACSA Leadership Summit in November.  Congratulations to Cayla Alvarez, a senior at Mountain House High School, for being named the 2023 Region 7 ESS Student.    Cayla recently signed a letter of commitment to play basketball at the University of La Verne.  Cayla received a $1,000 scholarship from Region 7 at their General Membership Assembly in April.

---
Region 7 2023 Scholarship Recipients Announced
Each year our Region awards three $1,000 scholarships to assist children of ACSA members to pursue post high school educational endeavors. Next year the region is increasing the number to four $1,000 scholarships.  
Congratulations to the following students: 
Allie Peterman – Central Valley High School – daughter of Dr. Amy Peterman
Elijah Malamed – Calaveras High School – son of Rene Rodriguez Malamed
Kendall Shroyer – Grace Davis High School – daughter of Michael Shroyer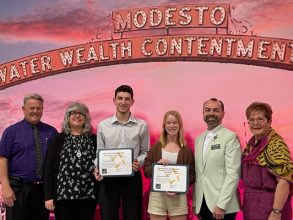 ---