ACSA Region 7 believes in supporting its members and students by providing several opportunities to earn scholarships. The Scholarship Committee consists of the Region 7 President-Elect and President–Elects from each charter.  Children of persons serving on the committee are not eligible for the scholarship.  Scholarships will be awarded as follows:
Objective: Promote and encourage professional growth of ACSA members
For: Region 7 State ACSA Members/Professional Development
Amount: $500.00 each (1 for State Summit, 1 for Academy, 1 for CEL, 1 for Region Conference).  This year only the region is offering two (2) $250.00 scholarships for State Summit instead of one (1) $500.00 scholarship because Summit is virtual this year due to COVID-19 and the registration for virtual is only $250.00.  The CEL Institute scholarship this year is only $99 because it is virtual due to COVID-19.
Due: Academy due: 3 weeks prior to the Academy; State Summit due: October 23, 2020; CEL Institute due: January 22, 2021; Region Conference due: March 26, 2021
Objective: Assist children of ACSA members to pursue post high school endeavors
For: Post high school educational endeavors for children of Region 7 State ACSA Members
Amount: $1,000.00 each (3 awarded per year)
Due:  March 12, 2021
Application:  Must include – 2 letters of recommendation, essay, transcripts.
Please email letters of recommendations and transcripts to Ramona Soto-Barajas at: rasoto@tusd.net
Objective: To honor students who have succeeded against all odds
For: One nominated student from each charter
Amount: One awardee from the Region will receive $500.00 for education
Due:  March 5, 2021
Application:  One student will be selected to be honored at the State ACSA Conference representing Region 7. The application must be submitted on the State ACSA Every Student Succeeding nomination form.
For more information contact:
Ramona Soto-Barajas, Principal
Tracy Unified School District
209-830-3335
rasoto@tusd.net
---
Region 7 2021 Scholarship Recipients Announced
Each year our Region awards three $1,000 scholarships to assist children of ACSA members to pursue post high school educational endeavors. This year our Region 7 Cabinet members voted to award all of the eligible applicants a $1,000 scholarship, in order to support the students whose education and/or graduations were interrupted and cancelled due to COVID-19.
The Region had the funds to support the additional 2021 scholarships due to the cancellation of our Spring Conference.
Congratulations to the following students:
Katherine Aldridge – Gold Rush Charter School – daughter of Joe Aldridge
Lilyana Castro – Liberty High School – daughter of Nancie Castro
Alexandra Fereria – Ripon High School – daughter of Elizabeth Avila-Fereria
Caleb Henry – Patterson High School – son of Toney Henry
Christina Higle – Turlock High School – daughter of Chris Higle
Kira Huerta – Dos Palos High School – daughter of Shelby & Marcos Huerta
Michael Megenney – Escalon High School – son of George Megenney
Antonia Peters – University of the Pacific – daughter of Christine Torres-Peters
Andrew Rich – Davis High School – son of Mike Rich
Calvin Richey – Heritage High School – son of Deborah Richey
Leena Sanchez – Pitman High School – daughter of Jose Sanchez
Siera Sandoval – Central Valley High School – daughter of Mariana Sandoval
Kevin Wise – Ceres High School – son of Brian Wise
Jennah Zambrano – Manteca High School – daughter of Julio Zambrano
---
Gysselle Bibiano Named Region 7 2020 ESS Student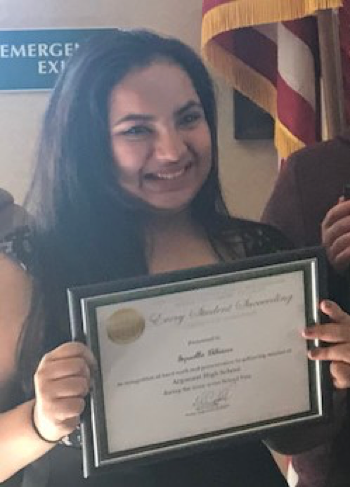 Congratulations to Gysselle Bibiano, Region 7's ESS student for 2020. Gysselle, a senior at Argonaut High School in the Amador County Unified School District, was nominated by her principal, Troy Grassaway. Gysselle was the first special education student in the moderate to severe program to graduate with a comprehensive high school diploma. What sets Gysselle apart from other students is a miracle.
When Gysselle was born she was pronounced dead. She was resuscitated and brought back to life; her first few weeks in the hospital were difficult ones. At six months old, medical specialists told her mother that Gysselle had Cerebral Palsy as well as Ataxia and she would not reach milestones like a normal child. They also told her to prepare for a child that was in a wheelchair and didn't walk or talk.
At an early age Gysselle recalls her mother telling her that she would walk, talk, and do anything she set her mind to. Today, Gysselle walks and talks and is a leader and role model on the Argonaut High School campus. She will graduate with a 3.5 GPA and has successfully completed all of her mainstream Math and Science courses and completed an AP English course. Gysselle is a member of the Drama Program and has had leading roles in the talent show and school plays. She is also a member of the track and field team, throwing the discus and the shot put.
Next year Gysselle will begin Columbia College in hopes of pursuing a career as a special education teacher.