We are here to serve and represent YOU and the STUDENTS you serve!
ACSA's 19 regions divide the state geographically, allowing the voices of members to be heard at the local level. Each region elects officers who serve as representatives on the state Leadership Assembly.
Regions offer networking opportunities, professional development and programs tailored to meet local needs.
Within each region are smaller charters, which give ACSA its grassroots strength. Charters can be geographical in nature or focus on specific membership types, such as aspiring administrators or retirees.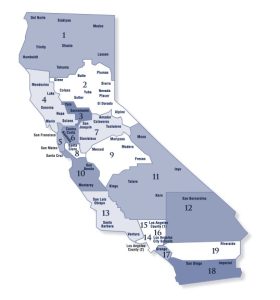 ACSA Region 4 serves the following ACSA Charters in Northern California:
Mendocino County          Lake County         Marin County
Sonoma County              Napa County        Solano County
Vallejo City