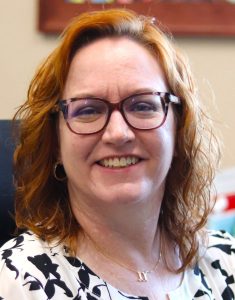 Hello ACSA Region, 18 Members!
I hope this message finds you relaxed, rejuvenated, and ready for another school year. I am proud and honored to be serving as your Region 18 President for San Diego and Imperial counties for the next two years. I have been an ACSA member for 20 years and have been active in my local Imperial County Charter Board and our Region 18 Leadership and Cabinet. ACSA has provided me with so many great opportunities that have supported my career, supporting me as I have worked as an administrator at the site, district, and county levels. Have you been wondering how you can take that next step to become more involved in ACSA?
Here is my Top Five List of the best ways to get more involved with your ACSA membership.
Number 5: Join ACSA's Social Media Platforms and Check Out ACSA Website and App

All of the ACSA happenings and information is available on social media and the state ACSA website and app.

Facebook: ACSARegion18, Association of California School Administrators
Twitter: @ACSARegion18, @ACSA_info, @ACSA_GR
Instagram: ACSA_info

Number 4: Watch ACSA's Weekly Legislative Lunch Break

One of the most important benefits of being an ACSA member is that you know you can concentrate on your day job because there are talented and skilled ACSA Government Relations staff members working to make sure you are supported at the State Capitol. You can keep up to date on all legislative goings-on by watching the weekly updates by ACSA staff live on most Wednesdays at 1pm on YouTube or Facebook. Don't have time for lunch? You can watch later on YouTube and FB, as all episodes are recorded.

YouTube: ACSA – Association of California School Administrators
Facebook: Association of California School Administrators

Number 3: Attend the ACSA Leadership Summit

The Annual ACSA Leadership Summit changes location from Northern California and Southern California every other year. This year it is in SAN DIEGO on November 3-5, 2022! Take advantage of an outstanding professional growth opportunity with sessions led by your administrator colleagues from across the state. Registration is open now.

ACSA.org for more information

Number 2: Participate in an ACSA Academy

New to your position or ready for your next administrative position? Did you know ACSA provides a full range of academies in 10 leadership specializations for school administrators, confidential employees, and classified management. These multiple day training opportunities allow you to learn alongside your colleagues from across the state. There are also summer academy opportunities for principals and new and aspiring administrators. It was my attendance at a Summer Academy in 2002 that gave me the confidence to apply for my first administrative position. I highly recommended this investment in your career!
Number 1: Get Involved with your Local Charter

Each ACSA Region is made up of local Charters. Charters are a great place to start to get more involved in ACSA. Charters allow regular opportunities to network and interact with the ACSA members that work in districts near you and provide leadership positions on the Charter Board. Check out the charters in our region and the districts represented in each charter:

Southwest Charter: Chula Vista ESD, Coronado USD, National ESD, San Ysidro ESD, Southbay Union, Sweetwater UHSD (81 Members)
East County School Leadership Charter: Alpine UESD, Cajon Valley UESD, Dehesa ESD, Grossmont UHSD, Jamul-Dulzura UESD, Lakeside UESD, La Mesa-Spring Valley ESD, Lemon Grove ESD, Mountain Empire USD, Santee ESD, Helix Charter High School (80 Members)
San Diego City Charter: San Diego USD (59 Members)
Imperial County Charter: Imperial COE, Brawley ESD, Brawley UHSD, Calexico USD, Calipatria USD, Central UHSD, El Centro ESD, Heber ESD, Holtville USD, Imperial USD, McCabe UESD, Meadows UESD, Mulberry ESD, San Pasqual Valley USD, Seeley UESD, Westmorland UESD, Imperial Valley ROP (177 Members)
Palomar Charter: Borrego Springs USD, Escondido UESD, Escondido UHSD, Julian UESD, Julian UHSD, Ramon City USD, San Pasqual UESD, Warner USD, Valley Center-Pauma USD (54 Members)
Association of Poway School Managers Charter: Poway USD (35 Members)
San Diego County Department of Ed Charter Group: San Diego COE (22 Members)
Greater San Dieguito Charter: Cardiff ESD, Del Mar UESD, Encinitas UESD, San Dieguito UHSD, Solana Beach ESD, Carlsbad USD (102 Members)
Retired Administrators Charter-ACSAR (152 Members)
North County School Managers Charter: Fallbrook UESD, Fallbrook UHSD, Vallecitos ESD, Vista USD, Oceanside USD, San Marcos USD, Bonsall USD, Guajome Park Academy, SIATech, Inc. (106 Members)
Student/Associate Charter (26 Members)
I look forward to working with our ACSA Region 18 Cabinet and Leadership to support all of you as you support our students in the next school year. Together, we are ACSA and ACSA puts students first. Please do not hesitate to reach out if you have any questions about ACSA.
Sincerely,
Joy
President
ACSA Region 18
Director
Learning, Instruction & Accountability
El Centro Elementary School District