ACSA REGION 14 INVITES YOU TO OUR
OCTOBER LEADERSHIP ASSEMBLY
Come and hear from ACSA's Senior Director of Policy and Governmental Relations, Dr. Edgar Zazueta and Legislative Advocate, Serette Kaminski.
Friday, October 22, 2021 at 7:30 AM
on this Zoom Meeting Link
Please RSVP on this RSVP Form
Let us know what questions or topics you would like to have addressed on this Topics/Questions Form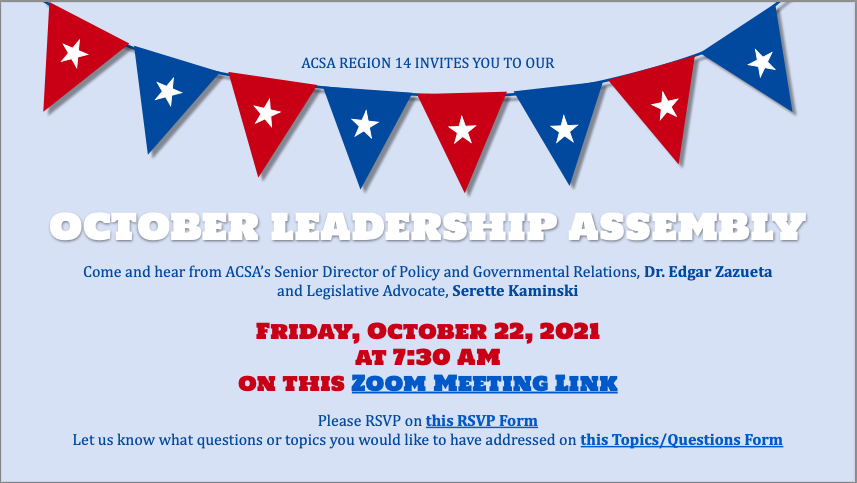 Main Leadership Assembly 8:00 a.m. – 1:30 p.m.
Thursday, October 14, 2021
Leadership Assembly Highlights
2022 Nominating Committee Report and Nominations from the Floor for Vice President
Political Landscape and Legislative Update
Equity Presentation
Update on ACSA's Strategic Plan 2021-2022 and Beyond
Update on the November Leadership Summit in San Francisco
Individual Regions Debrief of the Day
Attendees are:  President, President Elect, Past President, Legislative Action person, President Elect for State ACSA, State ACSA Committee/Council Presidents, Region Consultant
Region 14 at the ACSA State Leadership Assembly – 10-16/17-19
| | | | |
| --- | --- | --- | --- |
| California Secretary of State Alex Padilla talked about 2020 census | ‪Dr. Erin Simon, from Region 14's Long Beach, is running for Vice President in State ACSA | ‪Edgar Zazueta, State ACSA Director of Policy and Governmental Relations, gave a Legislative Update | ‪Region 14 at the State ACSA Leadership Assembly |
On October 8, 2019, ACSA Region 14 hosted Assemblymember Al Muratsuchi at The Grand Long Beach Events Center.
2018-2019
2017-2018
2016-2017
Click on the files below to access Dr. Tonikiaa Orange's presentation on Culturally Responsive Pedagogy from our October Leadership Assembly and a presentation from Dr. Ilene Straus, Vice President of the State Board of Education, on California's new accountability system from the February Leadership Assembly.