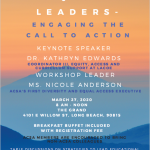 You are cordially invited to one of the most exciting equity conferences in 2020. ACSA Region 14 will have Dr. Kathryn Edwards, Coordinator III, Equity, Access and Curriculum Support from LACOE to keynote your equity conference on Friday, March 27, 2020, at The Grand in Long Beach at 8:30 a.m. Following her keynote will be Ms. Nicole Anderson, ACSA's first diversity and equal access executive who will lead a hands on workshop that will conclude around 12 p.m.
Registration Fees:
– ACSA member: $45
– Early Bird Non-ACSA member before January 31, 2020: $55
– Non-ACSA member after January 31, 2019: $70*
*If you join ACSA on or before March 27, 2020, you may take advantage of the $45 rate.
Please click this link to register: https://forms.gle/LDnkaNzpZBuu7zki6
Thank you and we look forward to seeing you on March 27!