August 22, 2015 | Comments Off

on State Leadership Summit 11/5/15- 11/7/15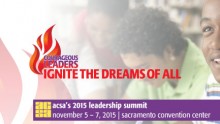 Summit strands to focus on eight LCAP priority areas
The ACSA Leadership Summit is an annual gathering of educators at all levels of administration that is a celebration of the profession and learning. The Leadership Summit provides opportunities for invaluable networking and offers professional development on current critical leadership and educational issues.
In 2015, the goal of the Leadership Summit is to inspire attendees to build and continue to strengthen their leadership skills. This year's event will offer powerful and insightful sessions, many opportunities for attendees to learn from nationally recognized speakers, and an opportunity to network with each other and celebrate the profession of school leadership.
All Summit attendees are invited to join a special luncheon on Nov. 5, where ACSA will honor its Every Student Succeeding award recipients. The touching stories of students who overcome adversity to succeed in school are truly a conference highlight. In addition, all are invited to join a Fun Run/Walk the morning of Nov. 6, prior to a breakfast panel keynote session. The Fun Run/Walk will help sponsor scholarships for ESS students.
Whether you're new to the profession or a seasoned veteran of education, the 2015 Leadership Summit will sharpen your focus on our changing world. The event features top-notch keynote speakers, including:
• Marcellus McRae, co-lead counsel for plaintiffs in Vergara v. California.
• Fredi Lajvardi, teacher at Carl Hayden Community High School in Phoenix, Ariz., who will share first-hand accounts of bringing renewed focus to STEM education and inspiring the critically acclaimed documentary "Underwater DREAMS," as well as the major motion picture "Spare Parts."
• Kati Haycock, president of the Education Trust, discussing "Access to success in America. Where are we? Why does it matter?"
The Leadership Summit's session strands will support the needs of leadership efforts in California by featuring topics that focus on the California Priority Areas for the LCAP:
• Achievement
• Equity/Accessibility
• Implementation of Common Core State Standards
• Improving Student Achievement and Outcomes
• Instructional Leadership
• Parental Involvement and Participation
• School Climate
• Student Engagement
For more information, or to register now for the 2015 ACSA Leadership Summit, please go to http://edservices.acsa.org/events/leadershipsummit or download the registration brochure.