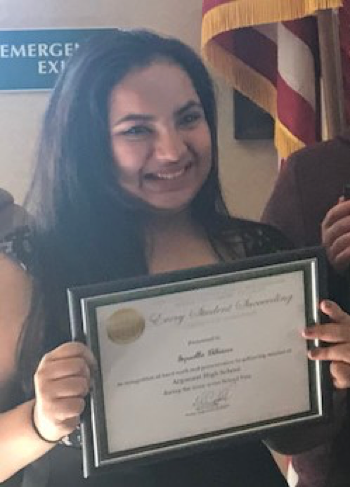 Congratulations to Gyselle Bibiano, Region 7's ESS student for 2020. Gyselle, a senior at Argonaut High School in the Amador County Unified School District, was nominated by her principal, Troy Grassaway. Gyselle was the first special education student in the moderate to severe program to graduate with a comprehensive high school diploma. What sets Gyselle apart from other students is a miracle.
When Gyselle was born she was pronounced dead. She was resuscitated and brought back to life; her first few weeks in the hospital were difficult ones. At six months old, medical specialists told her mother that Gysselle had Cerebral Palsy as well as Ataxia and she would not reach milestones like a normal child. They also told her to prepare for a child that was in a wheelchair and didn't walk or talk.
At an early age Gyselle recalls her mother telling her that she would walk, talk, and do anything she set her mind to. Today, Gyselle walks and talks and is a leader and role model on the Argonaut High School campus. She will graduate with a 3.5 GPA and has successfully completed all of her mainstream Math and Science courses and completed an AP English course. Gyselle is a member of the Drama Program and has had leading roles in the talent show and school plays. She is also a member of the track and field team, throwing the discus and the shot put.
Next year Gyselle will begin Columbia College in hopes of pursuing a career as a special education teacher.