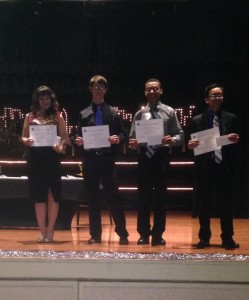 Region 3 held its annual Awards Gala May 14, 2014 at the Red Lion Hotel. Awards were presented to Administrators of the Year, Silver Stars, Aspiring Administrators, Partners in Educational Excellence and Student Scholarship winners. Outgoing Executive Board members Richard Tapia and Harjinder Mattu were thanked for their service.
Harjinder Mattu, outgoing Vice President of Programs, presided as Master of Ceremonies, and Dr. Randy Delling, newly installed ACSA President, attended as a special guest. Performances included the Cordova High School Jazz Band, presentation of Colors by Pacific Career and Technology High School JROTC Cadets, and the National Anthem sung by Eve Sterling, Mather Heights Elementary School. Special thanks to our event sponsor, Lifetouch.
Below are the names of those honored at the ceremony.
Student Scholarship Awards
Theodore Scott- Femenella
Dustin Diel
Katerina Burko
Perry Vargas
Aspiring Administrators
Hortencia Phifer, Esparto USD
Robert Pope, Twin Rivers USD
Shaen Hosie, CSUS
Jennifer Hansen, CSUS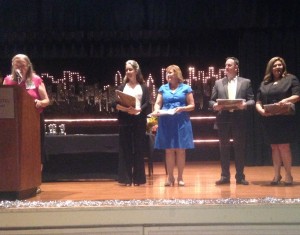 Silver Star Recipients
Central Office Administrator:
 Steve Muzinich, Director Attendance and Due Process, Folsom Cordova USD
 Sara Naguchi, Interim Superintendent, Sacramento City USD
Elementary Principal:
 Kelly Odipo, Parkway Elementary School, Sacramento City USD
Secondary Principal:
 Paul Fawcett, Principal, Winters High School, Winters JUSD
Secondary Co-Administrator:
 John Barsotti, Winters Middle School, Winters JUSD
Elementary Co-Administrator:
 Vlastimil Krvecek, Nicholas Elementary School, Sacramento City USD
Administrators of the Year
Superintendent:
 Jonathon Raymond, Sacramento City USD
Central Office:
 Sue Stickle, Deputy Superintendent, Sacramento County Office of Education
Business Services:
 Rhonda Crawford, Chief Business Officer/Chief Financial Officer, Folsom Cordova USD
Elementary Principal:
 Pam Scheeline, Winters Elementary School, Winters JUSD
Secondary Principal:
 Kerry Callahan, Pioneer High School, Woodland JUSD
Adult Education:
 Susan Moylan, Principal, Woodland Adult Education, Woodland JUSD
Continuation/Educational Options:
 Shane Yang, Site Administrator, Pacific Career and Technology High School, Twin Rivers USD

Partners in Educational Excellence
School Insurance Authority Team
Fremont Presbyterian Church
Sacramento District Dental Society
CSUS Division of Social Work
Yocha Dehe Wintun Nation
Installation of 2014-15 Executive Board
Jonathon Brunson………………………… Past President
Brent Cushenbery……………………………… President
Dr. Chris Morris ………………………….President-Elect
Hervey Taylor III …………………VP Legislative Action
Steve Muzinich ………… VP Communications/Marketing
Anna Trunnell …………………………….. VP Programs
Angi Carlomagno ……………………… VP Membership
Sue Gilmore ………………………………….VP Finance
Charlie Linebarger ……………………..Past VP Finance