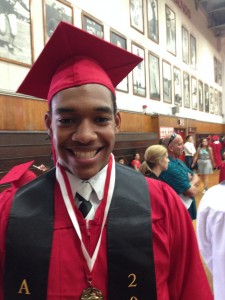 Kamil Robinson
Hoover High School, San Diego USD
Supporting ACSA Member: Joe Austin, Principal, Hoover HS
Support Team: Robert Robinson, Teacher, Hoover HS; Terena White, Counselor, Hoover HS
Determination and grit are what best describe Kamil Robinson, a recent graduate of Hoover High School in the San Diego Unified School District. In September 2014, Kamil's mother suffered a heart attack. Although she survived, he and his siblings were going to be placed in foster care. Luckily, his grandmother was able to care for the children. However, his mother and grandparents decided it would be best for the family to move out of state, a decision that Kamil feared would derail his plans to finish high school and attend college in California.
The day before the family's scheduled departure, his mother agreed that Kamil could live with his teacher in order to remain on track for graduation. Since that time, Kamil raised his grade point average, competed in Hoover High's first-ever divisional championship football game, and received letters of acceptance to several colleges. He intends to pursue a degree in political science and criminology, so he can take on a career in law to help others through social change.
Along with students from all of ACSA's 19 regions, Kamil was honored at the Leadership Summit Every Student Succeeding Luncheon on November 5, 2015 in Sacramento.