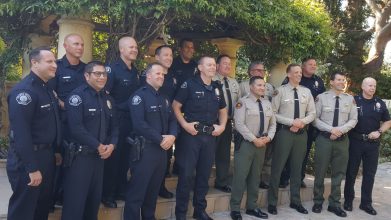 On May 30, 2019, the ACSA Region 13's North Ventura Charter sponsored an outstanding event honoring our law enforcement colleagues.  School Resource Officers and Sheriff's deputies from Ventura, Santa Paula, Fillmore and Ojai areas were presented with certificates and gifts thanking them for their ongoing support and dedication to the students and staffs of the Fillmore, Ojai, Santa Paula, and Ventura Unified School Districts.
North Ventura Charter (R13) honored Ventura USD School Resource Officers Tony Gomes, Jamey MacLellan, and Matt Thompson of the Ventura Police Department; Fillmore USD School Resource Officers Deputy Ismael Rubalcaba and Captain Eric Tennessen of the Fillmore Police Department; Santa Paula USD School Resource Officers Eric Burnett and Hector Ramirez of the Santa Paula Police Department; and Ojai USD School Resource Officer Chief James Fryhoff of the Ojai Police Department and the Ventura County Sheriff's office.
Our law enforcement colleagues have become a part of our school communities making a significant contribution to the culture of our schools by mentoring, communicating, and teaching students along with our parents and staff.  They assist us to maintain safe and supportive environments for all our school community stakeholders.
The event was organized by Dr. Mayra Vega-Manriquez, Vice President for Legislative Action for the North Ventura Charter and Anacapa Middle School principal, and ACSA member Cynthia Frutos, Director of Student Support Services, both of Ventura USD. It was held at the historic Pierpont Inn in Ventura and was attended by nearly 100 guests, including family members,  friends and coworkers of our SRO Honorees.
ACSA North Ventura Charter is proud to salute and honor our outstanding colleagues.